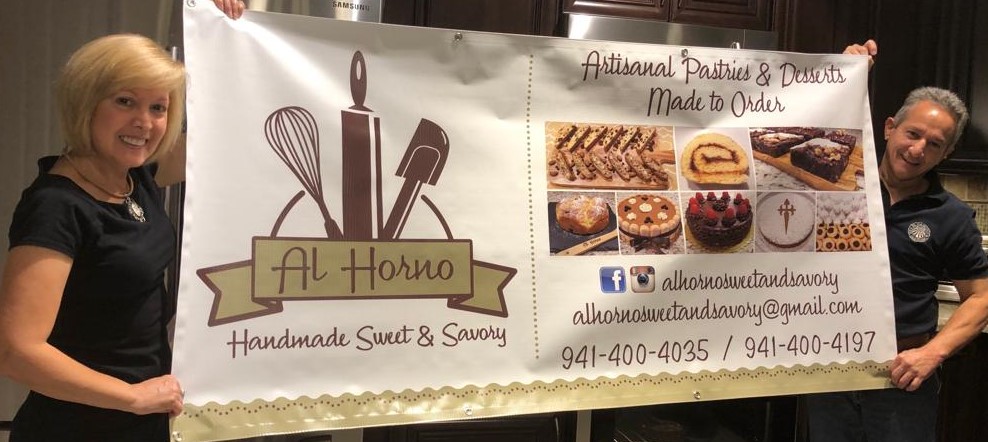 Since early age in my native land of Puerto Rico and inspired by the excellent pastries and desserts made in our Island, I discovered my love for baking.
Although life had other plans for me, and even when I chose a different career, I never lost interest for the art of baking. Thirty years ago, my husband George and I decided to move to Florida, and we were blessed with the opportunity to become business owners for 25 years, although in a totally different field. Through the years, my love for the art of baking grew stronger, and through our travels, I became passionate not only for my native Puerto Rican and Latin American desserts, but also for European pastries and desserts. Being a perfectionist and always willing to learn and improve, I was motivated to become a self-taught baker, spending much time reading and studying professional baking books and videos, taking classes, and hands-on self-training.
Wanting to learn more about European desserts, during Spring of 2018, George decided to join me, and we both took an Artisan Pastry course in one of the most distinguished baking schools in Barcelona, Spain, which prompted me to follow my passion and start a second career making what I love… handmade pastries, desserts, and savory goods. Therefore "AL HORNO" (Spanish for "baked") was born. It was then when George decided to join efforts with me, and in the Spring of 2019 we went back to Barcelona, and we both followed with another Pastry/Baking course at the same school, and attended to other trainings and workshops with other renowned  European pastry chefs.
This time, in our return to our home in Sarasota, Florida, "AL HORNO" became officially our new business endeavor, and for me it is just a blessing to have George with me… he is just as talented, smart, and hard worker, with great personality, the biggest asset of "AL HORNO", and of course, the love of my life.
We will continue to learn, try, and perfect new recipes, and even improve the ones we have. It's all about enjoying doing what we love!  We hope you give us the opportunity to serve you.
Many thanks!
Wanda & George Vega
AL HORNO, Sarasota, FL